Cold Porcelain Miniature Flower Tutorial – Page 2
 Basic "Cold Porcelain"
Miniature Flower Making Tutorial
Making the flowers
1/12th scale Apple Blossoms
Materials for Cold Porcelain Flowers
1 batch of cold porcelain paste  
(see page 1 for recipe)
1/4″ heart paper punch & leaf punch
(Fiskars makes many different shapes)
Acrylic Paints
(pink, lt. green, burgundy, dk. green, yellow )
very fine wire, Tacky glue, toothpicks, tweezers
brown or dk. green thread, Kemper Ball stylus
(small ball has been cut off and grinded to a point)
Clear No Hole Beads & Crystal Snow White Ultra Fine Glitter

Coloring the Clay
Next we will mix some acrylic paint into small portions of the cold porcelain
to make the petals and leaves.  Keep in mind that when coloring your cold porcelain
the acrylics help make the clay less transparent, and add a lot of color.
A little goes a long way.  It dries much darker, be careful!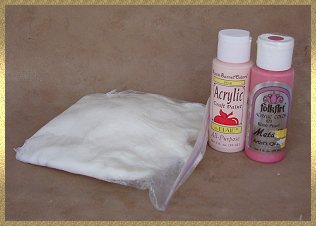 Break off a small chunk of the clay and roll into a ball.  Add a small amount of acrylic paint to the clay and knead the paint into the clay until color seems uniform You may have to keep adding cornstarch so it won't become too sticky.  Wrap tightly in plastic wrap and
set aside.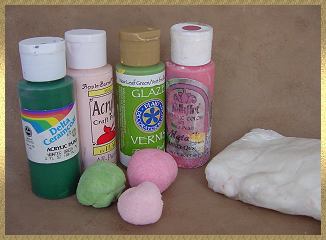 I would suggest making a very pale pink (blush color) for the flower petals, a darker pink for the flower centers & a light leaf green color for the leaves.  Be sure to keep those little balls wrapped very tightly in plastic wrap so they don't dry out.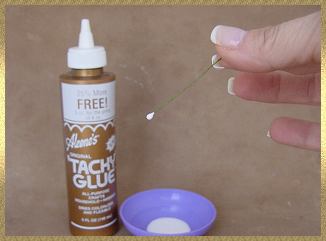 Dip the tip of a piece of fine wire into some tacky glue as shown in the photo.  You don't need quite as much as the photo, but I wanted to be sure you could see the glue.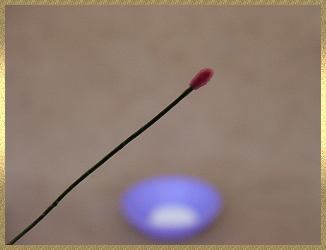 Roll a very tiny ball of medium pink clay and add it to the tip of the wire.  The glue really helps it to stick.  Shape it more into a narrow oval (think of a stamen on a flower) That is what we are making.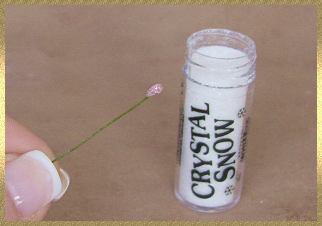 While "stamen" is still wet, dip it in the container of "Crystal Snow" to coat it with a sugary sparkle.  I personally like this little effect as I tend to like my flowers a bit sparkley when I am using them in my doll's hair or gowns.
Set aside to DRY!!! (you can make several of these stamens ahead of time, you can never have too many).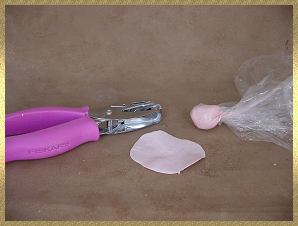 Now you will need your 1/4″ heart punch  You can use a smaller one if you like as apple blossoms really are very small,
but I like to make some of them larger, and besides it will be
easier for you to learn on them if they are a bit bigger.  Take a small ball of pink clay & flatten it out as thin as you can get it.  Use plenty of cornstarch to keep it from sticking to your hands.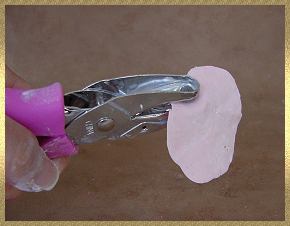 Be sure to dust the flattened out clay with cornstarch to keep it from sticking too much (it will stick a bit) to the heart punch. Carefully position the clay in the punch and "punch it out"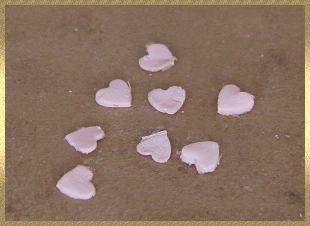 Use a toothpick to help push the hearts through the punch &
let them drop to the surface below. Try to make them as thin as possible. Try not to touch them right away as they
are very fragile.  Let them set up a little.
© Gina C. Bellous 2001 – 2015 – All Rights Reserved
This tutorial is for your personal use only.
NO portion of this tutorial may be
reprinted without permission,
copied for sale, or to be taught as your own.
Thank you for your cooperation
Enjoy!