Victorian Hat Tutorial – Page 3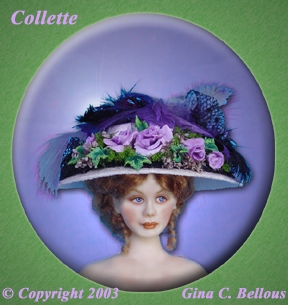 Isn't this fun!
The hat is really coming along now.
Soon we will be to the fun part of decorating!
Stick with it!  Let's get back to work!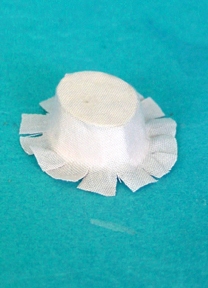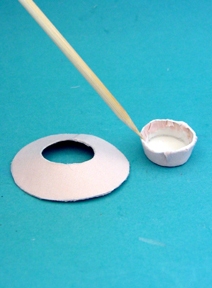 We will finish up the crown by
trimming around the outer edge, 
but leaving about 1/4″ of fabric. 
Clip curves all the way around as shown.
Add a bit of glue to the inside
edge of the crown.
Fold over the clipped curves
and press lightly between your fingers.
Add a bit of glue around the
bottom edge of the crown.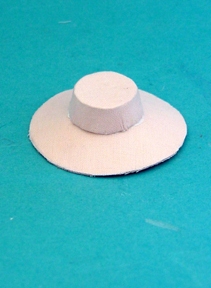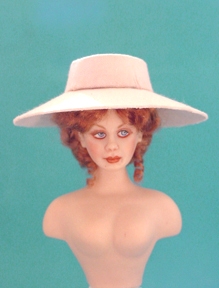 Carefully glue crown to the
brim matching the shape and
centering it so they match up evenly.
Colette is really looking sharp in her hat!
YOU DID IT! YEAH!
This is a basic hat just
screaming to be decorated!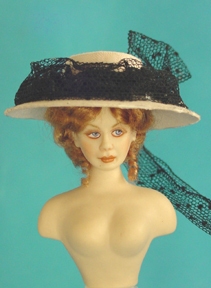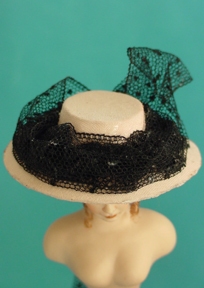 Apply glue to outside of brim.
Add black lace by bunching
it up and pressing as you go
around the brim.
Easy stuff here!
This somewhat "over head"
view shows how the lace goes around.
One loop is made and
secured with glue.
THREE LOOP. Looks GOOD
LET THE DECORATING BEGIN!